Introducing Mazars
Mazars is a leading international audit, tax and advisory firm, aspiring to build the economic foundations of a fair and prosperous world. Operating as a united partnership, Mazars works as one integrated team, leveraging expertise, scale and cultural understanding to deliver exceptional and tailored services in audit and accounting, as well as tax, financial advisory, consulting and legal services*. Founded in Europe, Mazars is present in over 90 countries and territories, with over 44,000 professionals – 28,000+ in our integrated partnership, 16,000+ via the Mazars North America Alliance – dedicated to helping clients make the most of business opportunities and operate with confidence.
*where permitted under applicable country laws.
Our expertise in data & IA 
Since 2010, a Big Data frenzy has developed. Our experts help businesses understand and use their data to make better and faster decisions. We work in collaboration with our customers to understand their needs and propose solutions around 4 key data segments:
> Data strategy & Governance
> Architecture and Data Engineering
> Data Analytics
> Data Science (Algorithmics)
For an international audit and consulting company like Mazars, the interest of the blockchain is obvious. For Luis Belmar Letelier, partner and CTO Data Advisory, "Mazars wants to contribute to the structuring of the responsible AI algorithms based on distributed systems, and to become one of the key players. These systems are expected to develop in particular in business relationships, in physical and financial transactions, and in their associated legal, accounting and tax ecosystems."
Our experts 

Laurent Inard joined Mazars in 1996. He works there as a Data Services partner, member of the Supervisory Board and Chief R&D Officer of Mazars in France. He supports the development of services exploiting new technologies: data access, datalakes and ELT, data preparation & quality, analysis and detection algorithms, profiling, prediction, prescription, optimization, industrialization, in-house, cloud or on-premise deployments.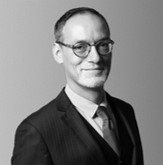 Luis Belmar-Letelier is a partner with 20+ years of experience on projects involving BigData architectures on complex data. He pioneered the design of prescriptive machine learning algorithms. He is responsible for the development of Mazars R&D's technology roadmap, he brings his teams to the state-of-the-art on APO, DevOps and Artificial Intelligence-oriented software engineering techniques.
Our insights
Mazars regularly publishes content on new technologies, artificial intelligence, machine learning, data and blockchain:
> Our Global Data Study: The race to data maturity